Name:
Disk Retro
Tier:
2
Faction:
Zegnum
Archon:
(nameless)
Order:
Vacuo
Class:
Arbitrator
Age:
unkown (reason in background)
Gender/Pronouns:
male he his him
Orientation:
straight/heterosexual
Personality:
He is a dark essence. A character of fear with a huge lust for destruction. He hates large crowds and being the center of attention. He sees imperfection as a virus or poison that must be destroyed. He has been known to fully destroy worlds filled with imperfections without mercy for anything. Nothing stands in his way of making a perfect universe by any means necessary. Unlike before he now has a more crazy tone to his personality. Wanting nothing more but to continue his Carnage among the macrocosm. Earning him the new nick name Carnage
Ambitions:
Wanting to make the vast multiverse and macrocosm perfect and free of the evils of imperfection
Faults:
not very bright: even though he considers himself intelligent he doesn't think twice when given orders from his authorities he will follow all orders fluently and to the point no matter what the consequences could be.
Bloodlust: just how he enjoys getting rid of imperfections he has a huge unsatisfied bloodlust. he doesnt care who or what he kills just the sight of pure crimson red flying through the air makes him feel satisfied.
Summary/Specialty:
Disk is a creature of pure horror and fear. Not many know of him but those who have escaped his grasp have told the stories of his merciless rage and bloodshed. He was made into the perfect creature of death by his maker (who was also killed by him) never knowing death through his life he has never met someone that can match his strength or his pure rage. He doesnt fear death only seeing it as getting rid of the weak being in the world. he is the perfect assassin able to be in and out with no one knowing who he killed or how he killed his target. he usually likes to attack his victims with brute force killing everything and everyone in his sight but if an opponent seems more powerful than usual he will turn to stealth to take out his target then kill off everything else after the high power has been killed.
Powers:
fear aura: When people are in his presence they feel a feeling of fear. That slight chill down your spine to through you off your guard and not knowing when he will attack
Fear analysis: on a glimpse Disk is able to identify the persons greatest fear or nightmare.
Expose fear: after using fear analysis Disk is able to morph his body to resemble his opponents greatest fear and use it to his advantage in battle (Its kinda like scarecrows fear toxin from Batman except he actually turns into your fear its not an allusion)
Shape shifter: like in expose fear he can also shape shift at will to be able to blend into crowds and be able to take out people in an instant without being recognized though his limit is he cannot shape shift into an Archon. He can also become objects around the room as long as he sees it like a mimic
Fear manipulation: added onto his fear aura the person who is effected by the fear aura now sees their fear everywhere not just Disk turning into them but they now hallucinate their greatest fear
Background:
Created by the brilliant scientist NAME REDACTED he was created to get revenge on those who questioned his genius. NAME REDACTED made disk by figuring out how to turn fear from a feeling to a physical object. By using his genius in cutting edge technology and his latest discovery of making fear a physical object, NAME REDACTED created him by liquifying this physical material into a monster of pure fear. Just before NAME REDACTED was going to give his monster his first command Disk morphed into a vampire, being his creators greatest fear, chased him through his lab and ripping his head off with his bear hands and destroyed the rest of his body. Ever since then he has been known to roam small towns and forests searching for his next victim
Extra info like family/marriage/etc:
Nickname: scourge of the night
Family: the only family he has ever known is his creator which he killed at first sight so there is very little chance he will fall in love or have a family
Appearance:
He stands about 7 foot tall, it is very hard to tell his physical build since his "flesh" is more of a liquified sludge, in his raw form he has a pair of crimson red eyes, and sharp teeth. the darkness in him has now manifested. with the many people he has killed and all the blood that has been splashed on him from every kill now shows itself with his new crimson look with bits of his old black "flesh" still showing
Face claim (Optional):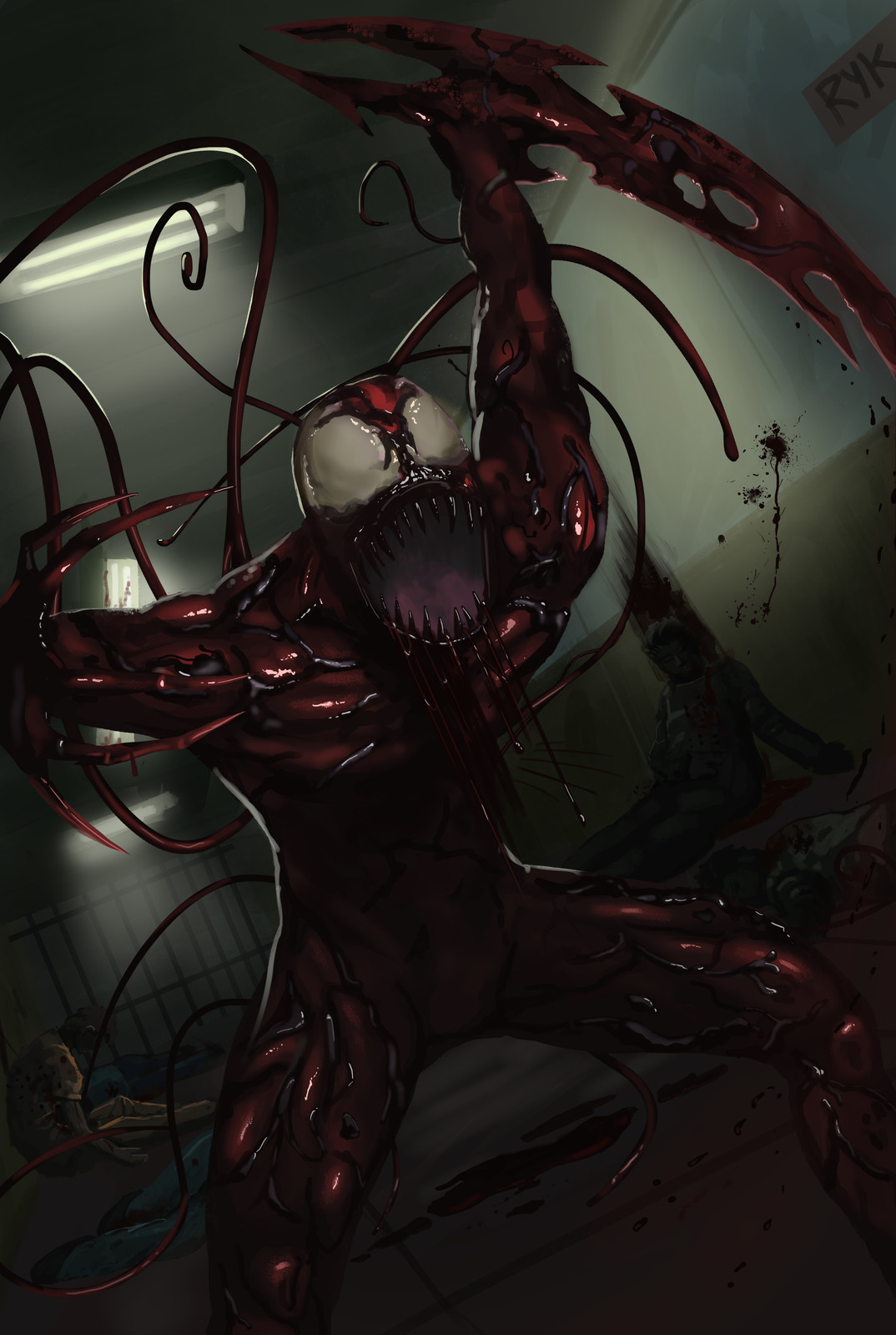 this is Carnage from the venom movie Marvel released
imagine this with red eyes